Beauties of Nature
Or
Nature—A Storehouse of Joy
Nature never did betray

                The heart that loved her; lis her privilege

                Through all the years of this our life, to lead

                                                                                       From joy to joy                                                                                                                    

—- Wordsworth
                Wordsworth, a staunch lover of nature, believed that nature is a storehouse of joy and pleasure.  It is an everflowing fountain of divine beauty.  It is a friend, a guide and a nurse to man.  It has a healing touch of its own.  A ruined body or a broken mind find a lot of comfort and consolation in the lap of nature.  It provides a man with fresh energy and a new vigour.  It is a manifestation of the divine.
                Nature is full of beauties and blessings for humanity.  The flowing rivulets, the sounding cataracts, the dancing winds, the smiling flowers and the lofty mountains are only some of these beauties.  Nature can fill our lives with real joy, goodness and happiness.  To a lover of nature, every object, of nature is as much living as any human being.  That is why Wordsworth wrote: "there is a spirit in the woods."
                Beauties of nature are unlimited.  But unfortunately, the modern man is too much engrossed in worldly pursuits.  He is too busy to discover the beauties of nature.  He has not time to listen to the singing of the birds, to watch the clouds moving majestically across the sky or to play with the dancing daffodils.  He does not look at the starry heavens; he is dead to the beauty of a rainbow in the sky.  He has sold his heart away to Mammon the god of wealth. Wordsworth rightly laments:
                "The world is too much with us.  Late and soon,

                Getting and spending, we lay waste our powers.

                Little do we see in Nature that is ours."
                We must open our inward eyes and ears.  Then only can we enjoy the sublime sights and sounds of nature —  otherwise we shall be like a man who goes to the river Ganges with a bowl full of holes.  Only a simple heart can enjoy the beauty of nature.  These beauties please us not only at the moment of seeing but they continue to thrill us even afterwards. Wordsworth once saw a crowd of daffodils waving and tossing their head in sprightly dance.  The sight filled his heart with joy.  The poet felt that he had acquired a great treasure.  He says:
                'For oft when on my couch I lie,

                In vacant or in pensive mood

                They flash upon that inward eye

                Which is the bliss of solitude.'
                Keats saw beauty even in autumn.  The beautiful word picture of the harvested with scythe in his hand, drowsy under the influence of poppies, is immortal.  The poet could enjoy music in the swallow's twitters and cricket's songs.  Who says that only spring has its songs? Autumn has its songs too, as beautiful as those of spring.
                Nature is not only a source of joy, it is also a source of joy, it is also a source of education.  The fruitful trees teach us to be humble; the mountains teach us to be firm; the flowers teach us to smile and blossom even when we are surrounded by the thorns of life.  Wordsworth rightly said:
                "One impulse from the vernal wood

                May teach us more of man,

                Of moral evil and of good

                Than all the sages can."
                A keen observer of nature can certainly find tongues in trees, books in brooks, sermons in stones and good in everything.
                Nature is a source of joy to us because it reveals the oneness of life.  Nature is a manifestation of God.  Nature is permeated with the same soul that dwells in man. There is a kinship between man and nature.  Love of nature is, therefore, natural in man.  A man who does not love nature is heretic because he refuses to recognize God who is all powerful and all pervading.
August 13, 2015evirtualguru_ajaygour10th Class, 9th Class, Class 12, English (Sr. Secondary), English 12, Languages9 CommentsEnglish 10, English 12, English Essay Class 10 & 12, English Essay Graduation
About evirtualguru_ajaygour
The main objective of this website is to provide quality study material to all students (from 1st to 12th class of any board) irrespective of their background as our motto is "Education for Everyone". It is also a very good platform for teachers who want to share their valuable knowledge.
Find very simple and easy to understand essay on nature. Bring some creativity in the education of your lovely kids, children and students who are studying in nursery, KG, 1, 2, 3, 4, 5, 6, 7, 8, 9, and 10. Nature is the most important thing for our life and our kids should know about this. So motivate their learning through following nature essay.

Essay on Nature
Nature Essay 1 (100 words)
We live on the most beautiful planet, Earth which has very clean and attractive nature full of greenery. Nature is our best friend which provides us all the resources to live here. It gives us water to drink, pure air to breathe, food to eat, land to stay, animals, plants for our other uses, etc for our betterment. We should fully enjoy the nature without disturbing its ecological balance. We should care our nature, make it peaceful, keep it clean and prevent it from the destruction so that we can enjoy our nature forever. Nature is a most precious gift given by the God to us to enjoy but not to harm.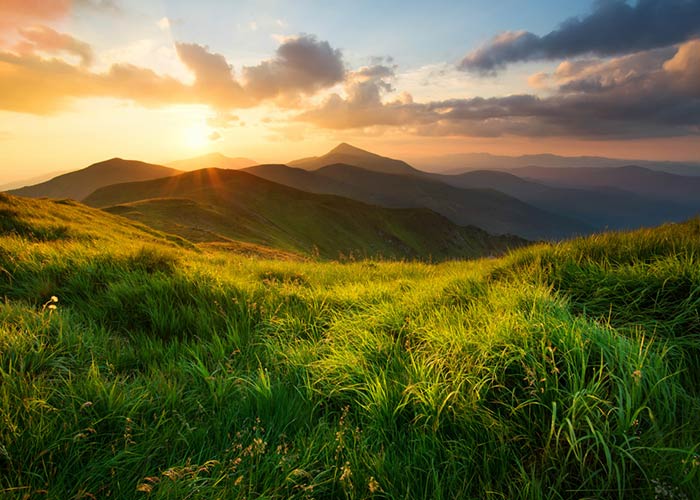 Nature Essay 2 (150 words)
Nature is the most beautiful and attractive surrounding around us which make us happy and provide us natural environment to live healthy. Our nature provides us variety of beautiful flowers, attractive birds, animals, green plants, blue sky, land, running rivers, sea, forests, air, mountains, valleys, hills and many more things. Our God has created a beautiful nature for the healthy living of us. All the things we use for our living are the assets of nature which we should not spoil and damage.
We should not destroy the originality of the nature and should not imbalance the ecosystem cycle. Our nature provides us beautiful environment to live and enjoy so it is our responsibility to keep it clean and away from all the damages. In the modern era, many selfish and bad activities of the human being have disturbed the nature to a great extent. But we all should try to maintain our nature's beauty.
Nature Essay 3 (200 words)
The nature is everything around us which surrounds us with beautiful environment. We see and enjoy it every moment. We observe natural changes in it, hear it and feel it everywhere. We should take full advantage of the nature and go out of home for the morning walk daily to breathe pure air and enjoy morning beauty of nature. All though the day it changes it beauty like in the morning when sun rises everything looks bright orange and then yellowish. In the evening when sun sets it again becomes dark orange and then light dark.
The nature has everything for us but we do not have anything for it even we are destroying its property day by day to just fulfill our selfish wishes. In the modern technological world lots of inventions are getting launched daily without its advantage and disadvantage to the nature. It is our responsibility to save the declining assets of our nature to make possible the existence of life forever on the earth. If we do not take any step towards nature conservation, we are keeping our future generations at danger. We should understood its worth and value and try to maintain its natural shape.
---
Nature Essay 4 (250 words)
Nature is the most precious and valuable gift to us from the God to live our life here on the earth. Nature makes our life easy by providing all the required resources for daily living. We should thankful to our nature for helping, caring and nurturing us like a mother. We can enjoy the sweet sound and scenery of the nature if we peacefully sit in the early morning in the garden. Our nature is adorned with lots of scenic beauty which we can enjoy anytime. Earth has geographical beauty and known as the city of garden or heaven. But it is sad to say that such beautiful gifts of God are declining day by day due to the technological advancement and high level of ignorance of the human beings.
Nature is like our real mother which never harms us but always nourishes us. Walking in the lap of nature in the early morning makes us healthy and strong as well as keeps us away from many lethal diseases like diabetes, chronic heart diseases, high blood pressure, liver problem, digestive system ailments, infections, brain disease, etc. It is good for our health to hear the soft sound of the birds, rattle of the breeze, sound of running fresh air, sound of running water in the river, etc in the early morning. Most of the poets, writers and people used to of yoga and meditation are seen in the early morning in the garden to re-energize their body, mind and soul.
Nature Essay 5 (300 words)
Nature is the most important and integral part of the lives of everyone. Everyone has been blessed with the true love of God in the form of beautiful nature. We should never miss the pleasure of enjoying the nature. Nature has been the most favourite topic of the works of many famous poets, writers, painters and artists. Nature is the beautiful creation of the God which he blessed to us as a precious gift. Nature is everything which surrounds us like water, air, land, sky, fire, river, forests, animals, birds, plants, sun, moon, stars, sea, lake, rain, thunder, storm, etc. Nature is very colourful and has both living and non-living things in its lap.
Everything in the nature has their own power and uniqueness provided by the God. It has its many forms which are changing by season to season and even from minute to minute such as sea looks bright blue in the morning but by noon it looks emerald green colour. Sky changes its colour all through the day from pale pink at sunrise, dazzling blue in late morning, bright orange in evening at sunset and purple by twilight. Our mood also gets changed according to the nature such as happy and hopeful at sun shine, rainy season and spring season. We feel heartily happy at moonlight and little bored and tired in high sun light.
Nature has some powerful transformative power which changes our mood and behaviour accordingly. Nature has power to recover the patients from their diseases if they are provided with the required and pleasant environment. Nature is very essential for our healthy life so we should keep it clean and conserve it for our future generations. We should cut trees and forests, should not despoil the ocean, rivers, should not make hole in ozone layer, should not increase green house effect, global warming and many more through our selfish activities. We should get fully aware about our nature and try our best to keep it natural so that it can nourish life on the earth forever.
---
Nature Essay 6 (400 words)
Nature is the natural environment which surrounds us, cares us and nourishes us every moment. It provides us a protective layer around us to prevent from the damages. We are not able to survive on the earth without nature like air, land, water, fire and sky. Nature includes everything around us like plants, animals, river, forests, rain, lake, birds, sea, thunder, sun, moon, weather, atmosphere, mountain, desserts, hills, ice, etc. Every form of nature is very powerful which has ability to nourish as well as destroy us.
Now a day, everyone has less time to enjoy nature. In the increasing crowd we forgot to enjoy nature and improve health. We started using technological instruments for our health fitness. However it is very true that nature has power to nourish us and fit us forever. Most of the writers have described the real beauty and advantage of the nature in their writings. Nature has ability to make our mind tension free and cure our diseases. Because of technological advancement in the life of human being, our nature is declining gradually which needs a high level of awareness to keep it in balance and to conserve natural assets.
God has created everything very beautifully seeing which our eyes can never be tired. But we forgot that we too have some responsibility towards our nature to relationship between nature and human beings. How beautiful scenery it looks in morning with sunrise, songs of birds, sounds of lakes, rivers, air and happy gatherings of friends in the evening in garden after a long day of crush. But we forgot to enjoy the beauty of the nature in just fulfilling our duties towards our families.
Sometimes during our holidays we spend our whole day by watching TV, reading news paper, playing indoor games or on the computer but we forgot that outside the door we can do something interesting in the lap of nature ad natural environment. Unnecessarily we left on all the lights of home, we use electricity without need which ultimately increases the heat in the environment called global warming. Our other activities like cutting trees and forests increase the amount of CO2 gas in the environment causing green house effect and global warming.
If we want to be happy and healthy always we should try our best to save our planet and its beautiful nature by stopping our foolish and selfish activities. In order to keep ecosystem in balance we should not cut trees, forests, practice energy and water conservation and many more. Ultimately we are the real user of the nature so we should really take care of it.
Related Information:
Slogans on Nature