Credit Education Week Scholarship Essay Contest
Fun contests and lots of great events are happening again this year as we celebrate Credit Education Week (CEW) from November 6th to 10th. CEW is in its eleventh year and every year it's bigger and better, from the celebrity guest speakers to the contests and prizes, and this year is no exception. Our theme this year is "Guilty Pleasures" which promises plenty of lively discussion, debate, and insight into how we Canadians spend and manage our money.
We all have our own guilty pleasures, whether it's binge-watching the latest season of our favourite series, checking out the online tabloids or getting that weekly treat from our favourite artisan cafe. Guilty pleasures bring us joy even on the most mundane days, but if we don't keep them in check they could potentially stand in the way of our financial goals. CEW this year is all about managing that fine balance between indulging in our guilty pleasures and achieving goals like owning a home, travelling, continuing education or financing your wedding.
Here's the rundown on this year's CEW main events and attractions:
Social Media Contest – Win up to $500

Our #GuiltyPleasures Twitter and Instagram contest is fully underway, where participants have a chance to win up to $500. All you have to do is post a photo of your guilty pleasure (no brands) with the hashtag #GuiltyPleasures and tag @CreditCanada for a chance to win $500. Contest runs until September 24th 2017, so get those entries in asap! And don't be afraid to get creative. It can be anything from designer coffee, gossip magazines and online products to pet and baby costumes, hobbies, and music shows. Click here for full contest details.

Grade 12 Essay Contest – $5,000 Grand Prize Scholarship

Every year, CEW hosts a national Grade 12 Essay Contest where winners receive scholarships ranging from $500 to $5,000, with over 20 prizes to be won. Our top prize winner not only takes home a $5,000 scholarship, but they also get to attend the CEW Dinner Gala in Toronto and present their essay to top industry leaders and the occasional celebrity. To enter, we are asking Grade 12 students to write 800 to 1,000 words on What was the dumbest thing you ever did with your money and what did you learn from the experience? Essays must be submitted by October 16th, 2017. For full contest details, click here.

Professional Development Day and Luncheon – November 6th, 2017

On November 6th we will be hosting a Professional Development Day at Toronto's downtown Y (20 Grosvenor St. 2nd floor) from 9am to 2pm. We'll also be providing a light breakfast and lunch, and it's completely free to attend. Top-industry professionals, media personalities, authors, and experts will be there to share the latest news and findings on personal money management, including best-selling and award-winning author, Kelley Keehn and personal finance journalist and author of Burn Your Mortgage, Sean Cooper. To attend simply register here.

CEW Dinner Gala – November 8th, 2017, 5:30pm–9:00pm

Every CEW is highlighted by our Dinner Gala where celebrities, industry-leaders, and of course our Grade 12 Essay winners rub elbows at Toronto's Fairmont Royal York Hotel, all in the name of Canadian financial literacy and wellness. This year's keynote speakers are the always entertaining TV-star duo, Colin & Justin. Tickets are almost sold out! Get yours by clicking here.
CEW is about helping Canadians boost their financial skills and outlook by providing direct access to the leading experts and pros who know all the ins and outs when it comes to personal money management. As Canada's longest-standing not-for-profit credit counselling agency, Credit Canada is proud to bring this event to all Canadians and their families to help build a better, stronger future. And as always, if you need help managing your debt or budget, give us a call at 1.800.276.2272 or click here for a free debt assessment. All of our counselling is free and we don't turn anyone away, because we believe all Canadians should have access to the right financial tools to move forward and achieve their financial goals.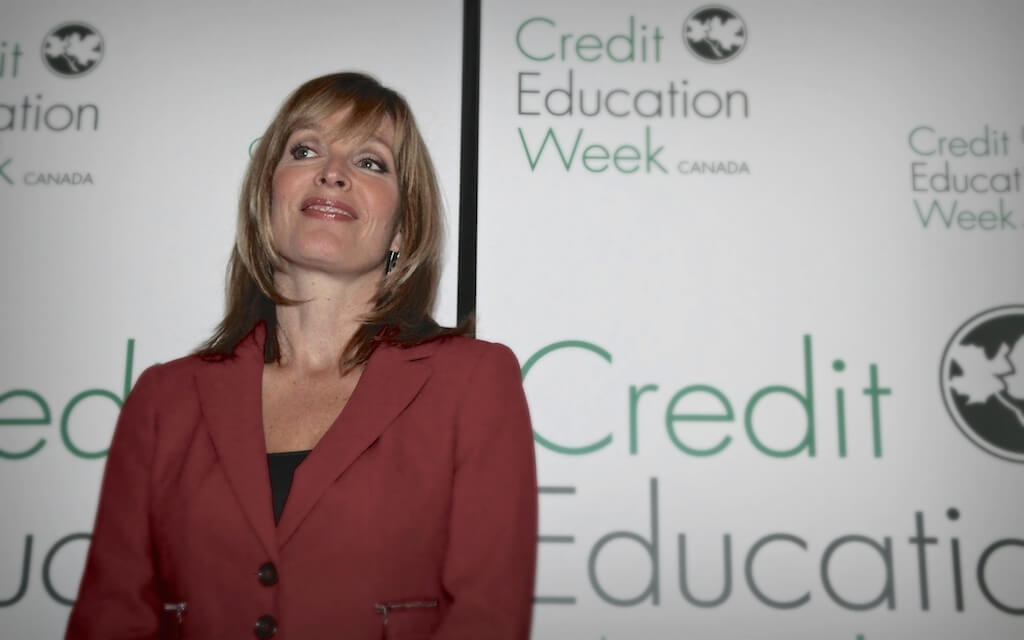 Financial coaching needn't be boring. It is hardly a dull or sleepy experience to see author and financial journalist Bruce Sellery bring loads of laughs to an auditorium, or hear media star Dianne Buckner of TV's Dragons' Den fame captivate a crowd with personal stories about money, or share insightful conversation with some of the smartest financial experts and bloggers in Canada. Fun, entertaining, and informative are the words that describe the activities in Toronto and across the country two weeks ago as Credit Education Week Canada (CEWC) enjoyed it's eighth year of success.
From the Toronto hub of activities alone there was plenty going on, with presentations, workshops, and conversation framed around this year's theme "Failure to Launch." The theme was spurred from a popular movie with the same title from not so long ago - a romantic comedy showing the complications that necessarily arise when people, particularly young adults, fail to get motivated and get on with life. Well, for any young adults still occupying their parents' basements, CEWC offered plenty of guidance in terms of pathways for success through improved financial literacy.
We launched the week with Professional Development Day at Toronto's downtown YMCA. A roster of brainy authors and experts gave presentations, shared thoughts, and engaged in Q and As before a full capacity crowd. Renowned author, journalist, and consumer advocate Ellen Roseman served as master of ceremonies. Getting things started was the sprightly Bruce Sellery, who as I say was a joy to behold, comically presenting investment insights covered in his book The Moolala Guide to Rockin' Your RRSP. Much more of interest was supplied by Canada's first Financial Literacy Leader, Jane Rooney, as well as a panel of experts serving on this year's newly formed Financial Literacy Steering Committee under Jane's wing. Other special guests joined in, too.
As all this got going in Toronto, many other activities got underway in communities across Canada – all adding to the continuing growth of Financial Literacy Month now held each November and officially sanctioned by the Government of Canada. Topics under discussion brought thought-provoking – and even downright surprising – news into financial matters including, among other topics, goal setting, making the most of retirement pension plans, and tapping into student loans and scholarships (did you know that $16 million in student scholarships went unclaimed last year?). As well, much was said about the need for private-public sector cooperation to integrate financial literacy initiatives across the country, particularly in relation to educational programming for kids and youth approaching adulthood.
Later in the week – at a special luncheon in Toronto – CTV journalist Pat Foran and I got together with top bloggers to talk turkey about money, with live tweeting filling the air. As the week progressed, photos poured in from a CEWC photo contest challenging people to take "selfies" to show their money face – be it happy or sad – for dibs on cash prizes.
In Toronto, the week rounded out with the annual CEWC Dinner Gala, hosted by Pat Foran and featuring keynote speaker Dianne Buckner, a respected journalist and producer on top of her Dragons' Den appearances. In addition to her engaging storytelling, she helped to present scholarships of $500 to $5,000 to 19 of the 30 winners of this year's CEWC Student Essay Writing Contest. The grand prize went to Tiffany Lu whose essay appeared previously in this blog space. She and all the other students wrote about the dumbest thing they've ever did with their money and what they learned from the experience.
It's fair to say that CEWC's "Failure to Launch" theme reflected nothing but success this year. And it's all thanks to talented guests and generous sponsors. On behalf of CEWC's platinum sponsors – including my agency Credit Canada Debt Solutions and Capital One Canada – I extend sincere gratitude to other sponsors including RBC Royal Bank, Ontario Lottery and Gaming Corporation, yconic, TD Bank, Harris & Partners, The Oakman Group, Visa, MNP Ltd., BMO Financial Group, and Equifax.